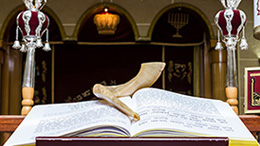 We are on the eve of the solemn and auspicious "opening night" of Selichot. Traditionally, Jews around the world gather at midnight in the week preceding the New Year to pray in the synagogue and usher in the High Holiday season. These coming thirty days are going to be the "busiest" synagogue days of the year. Jews who very rarely see the inside of a sanctuary will make it their business to attend all or part of services during Rosh Hashanah and Yom Kippur.
Prayer, especially one that is performed in synagogue, can be a daunting task. One need only open the pages of a Machzor to be easily overwhelmed by the hundreds of pages of liturgical prayer that are contained within. So what in fact is this prayer season all about?
I believe that coming to synagogue during these most holy of days, gives us a unique opportunity to reconnect with our creator, to open our hearts, and pray for the most basic of our needs and that of our families. So often, people get "stuck" in the maze of scripted prayers and supplications. We get caught up in the dynamic and tradition and we lose sight of what is most important; true and earnest prayer from the heart.
The holy Reb Rnachman was known to have said, "The closest and most meaningful prayer to G-d is that which comes from a broken heart." Who amongst us has not suffered pain and sadness? Who can say that they have been spared from the trials and tribulations of daily life? So on this High Holiday, I want to suggest that you close the book and open your heart. That you put away what's scripted and what's traditional and you adopt and express the most powerful and overwhelming prayer to G-d, that which spontaneously comes from your heart.
If you are privileged enough to be attending a congregation, where a Cantor is leading the services, close your eyes and listen to the beautiful liturgical music which reaffirms a tradition going back over two millennia. Music has a way to permeate the soul and inspire and elevate our prayers and wishes. May G-d listen and realize each and every one of our hopes and prayers.