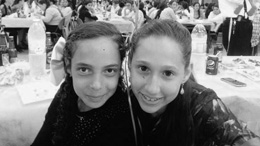 Tonight I had one of the most incredible experiences of my life. About a year ago, when my princess was just turning 11, I sat down to consider what sort of Bat Mitzvah she would have. I wanted this moment to be one that she would never forget, filled with beautiful and meaningful experiences. A friend of mine suggested connecting with a well known orphanage in Jerusalem, and adopting a girl around the same age as my daughter. So about ten months ago, we did just that. The two girls developed an amazing pen pal communication. They wrote letters, they shared jokes and spoke about their dreams and life experiences.
Nothing I told my daughter could have prepared her for the experience we had this evening. I was lucky enough to be able to travel with my princess to Israel for a few days, with one goal in mind: to celebrate her Bat Mitzvah with another beautiful child, who had been orphaned from both parents. We walked into the lunch room, and it was beautifully decorated. 150 beautiful young girls sat at the tables and sang, as we came into the room. This beautiful child that we only knew by name until today walked sheepishly up to my daughter, and they hugged and kissed.
The tears and the emotions in the room were overwhelming. The girls danced, they spoke, they celebrated; their hearts filled with joy. Just before the evening wrapped up, Avigail, this most beautiful adorable 12 year old girl, with piercing blue eyes, got up to speak. She took the microphone and this is what she said: "I want to say thank you to Yehudit for coming from America to celebrate this special day with me. I don't have a father or a mother. Everyday when I wake up in the morning, I pray to God to show me what it's like to be loved. Tonight for the first time, I felt true love since I was 8 years old and my parents passed. I will never forget what you did for me."
As parents, we are charged with raising our kids- with teaching them what matters in life. I know that what my daughter saw tonight will be seared in her heart forever.